Meal Information
Please join us for a meal!
Sit-down meals are served every Tuesday from 5:00 – 6:00 PM at the Chelmsford Senior Center, located at 75 Groton Road (Rte 40) in North Chelmsford. All ages are welcome at our meal! You will be served a restaurant style meal by friendly people and enjoy great company!
Inclement Weather Policy
Table of Plenty will be closed if Chelmsford Public Schools are closed or dismissed early due to inclement weather. Check WHDH Channel 7 for school closure information. If school is not in session, please tune to 980 WCAP-AM for Table of Plenty closure information. We will also post closings on our website, Facebook page, and voice mail system (dial 978-710-8328).
This Week's Meal
Tuesday, March 21st
Salad, corned beef and cabbage, potatoes and carrots, and a dessert
Meal sponsored by Mt. Pleasant Golf Club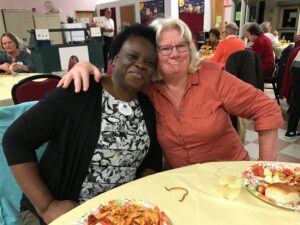 Contact Us
Table of Plenty in Chelmsford, Inc.
PO Box 321
Chelmsford, MA 01824
978.710.8EAT (8328)
Please also provide a daytime phone number when calling or emailing so that we may promptly get back to you.