Meal Information
Please join us for a meal!
Sit-down meals are served every Tuesday from 5:00 – 6:00 PM at the Chelmsford Senior Center, located at 75 Groton Road (Rte 40) in North Chelmsford. All ages are welcome at our meal! You will be served a restaurant style meal by friendly people and enjoy great company!
This Week's Meal
Tuesday, December 5th
Mozzarella sticks w/ Marinara sauce, Baked Stuffed Rigatoni w/ a garden salad and garlic bread, and Cheesecake for dessert.
Meal sponsored to honor the marriage of Frans and Mary as we celebrate their first wedding anniversary.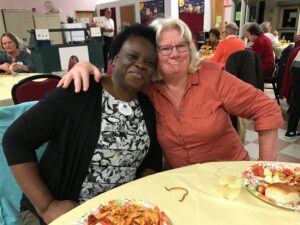 Contact Us
Table of Plenty in Chelmsford, Inc.
PO Box 321
Chelmsford, MA 01824
978.710.8EAT (8328)
Please also provide a daytime phone number when calling or emailing so that we may promptly get back to you.