Donate
Please consider making a donation to enable us to continue to provide a weekly meal to those in need. We have served over 60,000 meals since our first meal in 2010, and we currently serve an average of 125 meals each week. By helping to alleviate food insecurity, your contribution will help to build a stronger community for the future. You can make a secure, tax-deductible donation through PayPal by clicking the button below. If your donation is in honor or memory of someone, please indicate that in the area that says Add a note to your donation. Thank you for your generosity!
Sponsor a meal
Looking for a gift for that "hard-to-buy-for" person? How about sponsoring a meal in their honor? The cost of a meal sponsorship is $200, and you could share the sponsorship with family, friends, neighbors, or co-workers. You can make your meal sponsorship donation online through PayPal by clicking the donate button above. Please note that your donation is a meal sponsorship and provide your contact information, and someone from Table of Plenty will be in touch! Meal sponsors are welcome to attend or volunteer at the dinner they sponsor.
You may also mail your meal sponsorship check to:
Table of Plenty in Chelmsford, Inc.
PO Box 321
Chelmsford, MA 01824
Businesses and organizations are also welcome to sponsor a meal. The cost of each meal is $200, and we will advertise your support at the dinner you sponsor as well as in our newsletter. The reward is special, and the need is great.
Thank you to all our meal sponsors and donors!
Donate by check
Checks may be mailed to:
Table of Plenty in Chelmsford, Inc.
PO Box 321
Chelmsford, MA 01824
Donate with Venmo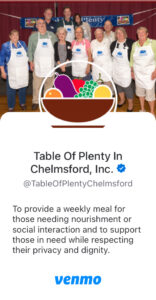 Click the image above to donate with Venmo
Donate through your Donor Advised Fund (DAF)
Support us while you shop at Amazon
Please contact us for additional information about making a donation. Table of Plenty in Chelmsford, Inc. is a registered 501(c)(3) charity, and your donation is fully tax-deductible as allowed by law.
Contact Us
Table of Plenty in Chelmsford, Inc.
PO Box 321
Chelmsford, MA 01824
978.710.8EAT (8328)
Please also provide a daytime phone number when calling or emailing so that we may promptly get back to you.