Table of Plenty in Chelmsford, Inc. is a non-profit organization in Chelmsford, Massachusetts consisting of volunteers who desire to share community with those in need. We serve a free weekly meal to alleviate hunger and social isolation for individuals and families in a friendly and welcoming environment.

ALL ARE WELCOME

— no questions asked, ever.





Sit Down Meals are Back Starting March 1st!


We are very excited to announce that we have resumed our sit-down meals starting on March 1st! Meals are served every

Tuesday from 5:00 - 6:00 PM

at the

Chelmsford Senior Center

, located at 75 Groton Road (Rte 40) in North Chelmsford. To keep everyone safe, guests will be asked to wear a mask while they are not eating.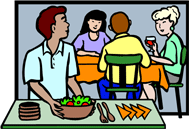 Like us on Facebook!





Join our mailing list t
o stay up-to-date on Table of Plenty news by filling in the form below: