Table of Plenty in Chelmsford, Inc. is a non-profit organization in Chelmsford, Massachusetts consisting of volunteers who desire to share community with those in need. We serve a free weekly meal to alleviate hunger and social isolation for individuals and families in a friendly and welcoming environment.

ALL ARE WELCOME

— no questions asked, ever.

Meals are served every Tuesday from 5:00 - 6:00 PM at First Parish Unitarian Universalist Church. Click here for more information about the meals.

Please consider making a donation, sponsoring a meal or volunteering.




A Note from one of our Guests

Dear Volunteers,





I awake on Tuesday mornings and look forward to a lovely social hour and nutritious food at 5 PM! You folks just can't do enough for us!





You are so generous with your time and efforts. Many thanks for your hard work in getting Tuesday nights ready.





My friends and I apprecieate everything.





- Marie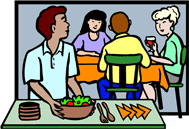 Like us on Facebook!





Join our mailing list t
o stay up-to-date on Table of Plenty news by filling in the form below: