Table of Plenty in Chelmsford, Inc. is a non-profit organization in Chelmsford, Massachusetts consisting of volunteers who desire to share community with those in need. We serve a free weekly meal to alleviate hunger and social isolation for individuals and families in a friendly and welcoming environment.

ALL ARE WELCOME

— no questions asked, ever.

Meals are served every Tuesday from 5:00 - 6:00 PM at First Parish Unitarian Universalist Church. Click here for more information about the meals.

Please consider making a donation, sponsoring a meal or volunteering.





Inclement Weather Policy



Table of Plenty will be closed if Chelmsford Public Schools are closed or dismissed early due to inclement weather. Check WHDH Channel 7 for school closure information. If school is not in session, please tune to 980 WCAP-AM for closure information. We will also post closings on our website, Facebook page, and voice mail system (dial 978-710-8328).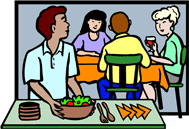 Like us on Facebook!





Join our mailing list t
o stay up-to-date on Table of Plenty news by filling in the form below: