Table of Plenty in Chelmsford, Inc. is a non-profit organization in Chelmsford, Massachusetts consisting of volunteers who desire to share community with those in need. We serve a free weekly meal to alleviate hunger and social isolation for individuals and families in a friendly and welcoming environment.

ALL ARE WELCOME

— no questions asked, ever.

Meals are served every Tuesday from 5:00 - 6:00 PM at First Parish Unitarian Universalist Church. Click here for more information about the meals.

Please consider making a donation, sponsoring a meal or volunteering.




Reminder: Temporary Relocation to St. Mary's Church

Table of Plenty will be serving meals at St. Mary's Church at 25 North Road until September 26th. Please click here for directions. St. Mary's has a large parking lot behind the building. Entrance to the Table of Plenty meal is through the door in the rear of the building. There is also a handicapped entrance there.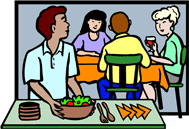 Like us on Facebook!





Join our mailing list t
o stay up-to-date on Table of Plenty news by filling in the form below: