Table of Plenty in Chelmsford, Inc. is a non-profit organization in Chelmsford, Massachusetts consisting of volunteers who desire to share community with those in need. We serve a free weekly meal to alleviate hunger and social isolation for individuals and families in a friendly and welcoming environment.

ALL ARE WELCOME

— no questions asked, ever.

Meals are served every Tuesday from 5:00 - 6:00 PM at First Parish Unitarian Universalist Church. Click here for more information about the meals.

Please consider making a donation, sponsoring a meal or volunteering.





Urgent Volunteer Need!

Table of Plenty has an urgent need for "breakdown volunteers" after our dinner each Tuesday night. Volunteers would stack chairs, breakdown folding tables, and sweep the dining room. Breakdown begins at 6:00 PM and usually takes about thirty minutes. Volunteers are needed each week, but an individual could choose to volunteer as little as one week each month. Please contact us if you think you can help us out!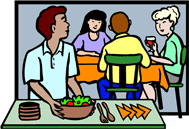 Like us on Facebook!





Join our mailing list t
o stay up-to-date on Table of Plenty news by filling in the form below: